Die GEA-Campus-Seite Februar ist da!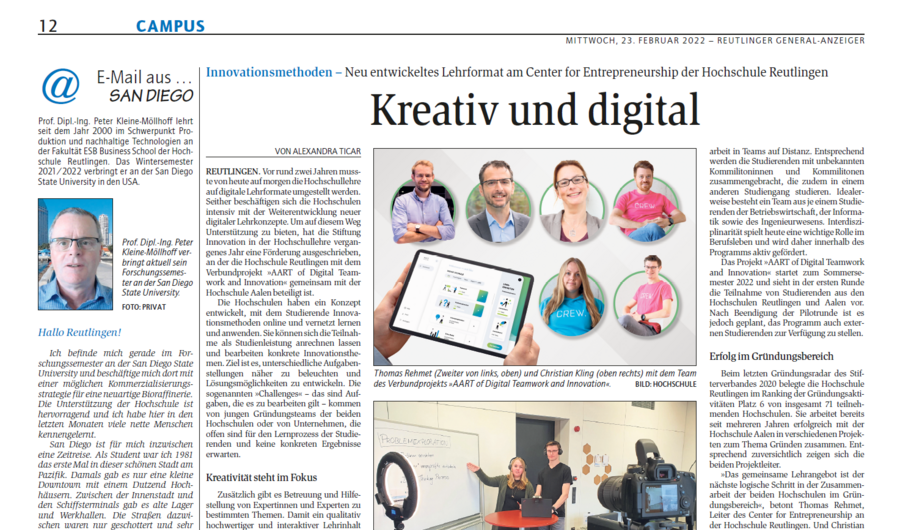 In der Februar-Ausgabe gibt es wieder spannende Themen aus der Hochschule.
"Kreativ und digital" – am Center for Entrepreneurship startet zum Sommersemester ein neues Lehrformat. In dem geförderten Verbundprojekt "AART of Digital Teamwork and Innovation", das in Kooperation mit der Hochschule Aalen stattfindet, werden die Studierenden beider Hochschulen gemeinsam innovative Kreativitätsmethoden online und vernetzt lernen, entwickeln und anwenden.
Mit weit über 500 Beratungen pro Semester sind Verena Hesche und Veronika Donay in der Zentralen Studienberatung die Anlaufstelle für Studieninteressierte und Studierende. Von Veranstaltungen zur Orientierung im Studium bis hin zu individuellen Lernplänen – ihr Aufgabengebiet ist dabei sehr vielfältig.
Die "E-Mail aus…" erreicht uns aus den USA. Prof. Dipl.-Ing. Peter Kleine-Möllhoff, der an der Fakultät ESB Business School lehrt, verbringt aktuell an der San Diego State University sein Forschungssemester. 1981 war er als Student zum ersten Mal in der Stadt am Pazifik. Seitdem hat sich dort einiges getan.
"Nachgefragt" haben wir bei Irene Merdian, Mitarbeiterin an der Fakultät Informatik. Zusammen mit den Studierenden Lukas Bertsch, Philip Storz und Sandra Wickner aus dem Masterstudiengang Human-Centered Computing hat sie im Rahmen einer Projektarbeit die Einführungswoche "staRT-Woche INF" neu gestaltet.
Lesen Sie mehr im heutigen Reutlinger Generalanzeiger.
Viel Vergnügen beim Lesen!
Die GEA-Campus-Seite wird von einem gemeinsamen Redaktions-Team der Hochschule Reutlingen und des Reutlinger Generalanzeigers erstellt. Ideen oder Anregungen für eine der nächsten Ausgaben? Schreiben Sie uns.